Building Stones
OGT have been busy exploring the links between building materials and styles with the local geology.
We received funding from the North Wessex Downs Area of Outstanding Natural Beauty to run the 'Diversity in Stone' project. With support from Berkshire RIGS and Wiltshire Geology Group, we completed a survey of building stones across the North Wessex Downs, and ran a programme of guided walks and talks around the region to promote the unique character of the building materials and styles found there.
We completed a project entitled "The Strategic Stones Study" funded by English Heritage to study and map the variety of building stones used across the county. For further information, you can download our project report here.
Download our Oxfordshire Building Stones Atlas and maps showing the clear correlation between the different building stones and stone roofing slates and the underlying geology.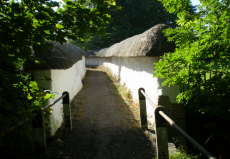 Diversity in Stone – lime-washed cob walls in Blewbury, Oxfordshire.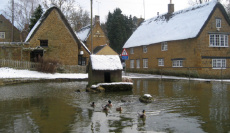 Strategic Stones Study – Characteristic Banbury Ironstone building stones in Wroxton, Oxfordshire.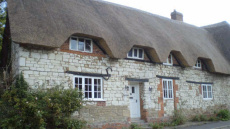 Chalk block cottage with brick and sarsen foundations and wooden lintels, Ashbury. Such chalk block cottages have resisted the weather for centuries by having "good shoes and a hat," that is a plinth of stone or brick to stop rising damp and overhanging eaves of thatch to resist the weather.